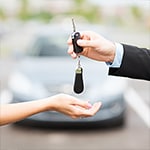 There are so many different benefits that come from buying a used vehicle at Dolan Lexus instead of something that's brand new. If you've decided to shop the used market, there are some tips that can help ensure that you're getting a good deal.
Know your budget before you start shopping. Don't let yourself go over that budget, and make sure that you know where the money is going to come from. Be practical about the different features that you need. You could end up spending far more money than you originally wanted to if you are talked into all the latest bells and whistles that are available.
Look into a vehicle history report for a vehicle you're considering. This gives you a good picture of where a vehicle has been and how well it's been taken care of over the years.